SEO can help you grow your St Louis company
Hays Digital Marketing is an SEO firm situated in St. Louis that can help your organization stay on top of industry trends. We have the proof in the form of experience and documentation.
Hays Digital Marketing considers your company to be more than just a website. We employ a tried-and-true process that considers all aspects of your business when developing an SEO strategy to help you grow sales and produce quality leads.
Are you struggling to make your company stand out online?
Find out how Hays Digital Marketing services may help you boost your brand's visibility.
Although top search engine rankings can be very profitable, achieving them is difficult due to the highly competitive and constantly changing market. Technical learning curves are equally steep.
The goal of SEO is to get your website ranked higher in search engines' organic sections or to get free traffic by ranking for relevant keywords to your business. This can be accomplished by adhering to search engine recommendations and/or providing a positive user experience.
Every day, the SEO specialists at Hays Digital Marketing work to improve SEO rankings and organic traffic. This will assist you in increasing your company's revenue. Not only can Hays Digital Marketing supply you with a team of SEO experts, but also developers, designers, and copywriters.
Search Engine Optimization (SEO), what is it?
SEO stands for "search engine optimization," which is the practice of increasing the quality and quantity of visitors to your website through organic searches in search engines. You'll attract more consumers and customers that are looking for your goods or service on the internet. How? When someone searches for your product or service, your website and company will come up first.
A user submits a question into a search box on Yahoo, Bing, or Google, and the search engine delivers websites that are connected to the query. The "bot" is a search engine that looks for information on the topic you looked for on the internet. This "bot" compiles a database of all online information. After that, the index is loaded into an algorithm that determines where websites should appear in the SERPs (search engine result page).
An SEO strategy is a means of influencing a search engine's algorithm so that your website's results appear in specific places. The first page is usually the most important. SEO may be done in a variety of ways on both your site and your own website.
Brand recognition can be aided by high search engine result page (SERP) ranks. Brands that are less accessible on search engines like Google and Yahoo are less trustworthy than yours!
Everything that has to do with optimizing a website for search engines is referred to as SEO. Search engine optimization (SEO) is the act of modifying indexed information so that it may be crawled and ranked highly on search engines like Google, Yahoo!, and Bing.
An SEO expert that delivers results
It's clear that you know exactly what you want, but not how you can get it. SEO St Louis clients tell us that this is what our SEO experts hear over and over. One or more of these reasons could be why you're here:
These four issues are common, so you know that you have found the right company. SEO St Louis serves hundreds of SEO clients every day and provides optimization solutions that help Google answer its ever-changing algorithms.
SEO is everything related to website optimization for search engines. SEO is the process of changing indexed content to be crawled, ranked high on search engines such as Google, Yahoo! and Bing.
SEO can be used to increase your chances of getting more clients or customers. You should start optimizing your pages to make it easier for search engines to find them.
You don't have to take on the task of SEO. Instead, let us do it for you. You want an SEO professional who is a specialist in your field and can deliver results.
The process of making sure your website conforms to search engine guidelines is called technical SEO. It allows you to crawl and index it without problems. A technical SEO audit is designed to evaluate your site's SEO to determine what aspects need improvement to make it more user-friendly.
To increase your website's success in this digitally competitive environment, it is important to stay up-to-date with the most recent technical SEO techniques and algorithm updates. It is important to understand what technical SEO means and how it works so that your website can be accessed by both search engine spiders and online users.
In technical optimization SEO, the following processes are involved:
Reporting crawl errors
Eliminating duplicate content
Preferential domain audit
Improve metadata
Status codes for HTTPS
Checking broken links
Creating an XML Sitemap
Secure Sockets layer (SSL), Implementation
Site speed increases
Utilizing robots.txt
Mobile optimization of websites
Auditing redirects
Google Site Search
When people search online for local services, you will be visible. Our team will assist you in gaining local reviews and reputation management. We also make sure that your business listing is up-to-date on relevant sites so local leads can locate you.
A local SEO strategy is a process of enhancing the visibility of a local business's website in local search engines for small and medium-sized businesses in a specific geographic area.
Local SEO is different from typical SEO which targets the brand's visibility on a global or national scale. Instead of focusing on increasing a brand's searchability, it targets local search queries and "near me". Google Local SEO aims to increase brand visibility beyond the physical storefront and to make your business accessible to local prospects.
Ranking factors for local SEO?
Google considers many local SEO ranking factors when determining your search engine rankings. They include:
Listing on Google My Business (GMB).
In local business citations, name, address, and telephone number (NAP) consistent
Domain authority
High-quality local search citations
Search results: Click-through Rate (CTR).
Keywords
UX (user experience)
Quality, speed, and diversity are all factors to be considered.
Signals linking
Local SEO: How to do it?
Local SEO uses a variety of local digital marketing strategies to increase your SEO rank, such as:
Keyword targeting for local business SEO
Google My Business Optimization
Searches local
Online reputation management
Building links
Search Engine Optimization (On-page)
Local SEO landing page optimization
Google Local SEO Content Marketing
Market authority and trustworthiness are increased
Increase your website's visibility online and get high-quality visitors. SEO St Louis ensures that our SEO services adhere to search engine best practices in order to increase your site's trustworthiness. SEO St Louis's SEO professionals create unique and valuable content and optimize your HTML tags and headlines. We also use high-resolution photos. Also known as On-page SEO or on-site SEO. It refers to the changes made directly by your website's content. It includes HTML code optimization and structure. Keywords, page quality, page structure, content structure, and meta description are all important on-page elements.
SEO St Louis is essential for building brand trust and increasing your online visibility. SEO St Louis can help you show your industry knowledge by becoming a partner. To generate positive reviews and qualified links, we use social media marketing and link building. Off-page SEO is an amalgamation of SEO techniques that occur outside the company website. It includes backlinks from bloggers, influencers, and social signals. Link relevancy and domain authority are all examples.
KEYWORD RESEARCH & ANALYSIS
SEO St Louis can help you rank higher for certain search terms. The SEO expert will examine the keywords that your site is ranking for and create a keyword wishlist. They'll also conduct keyword research in order to find the best keyword combinations for you and your competitors. Keywords are crucial in the SEO world. Broad keywords can be used to draw browsers, while money keywords will bring in actual buyers. You will learn the right keywords to increase visibility on your site.
To drive more customers to your website, we select and evaluate the most relevant keywords. Our goal is to ensure consistency and high quality. We work closely with content writers in order to optimize every page on your site. Find out which keywords are most relevant to your business and target them accordingly.
Great content is the foundation of any site. Our intelligent content is created in conjunction with SEO analytics so that your website can be purposeful, useful, and search-friendly. SEO is a great way to get traffic to your site. After keywords have been identified, we'll use them to create engaging, relevant content your visitors love. SEO strategies should include content as a key component. SEO specialists provide detailed reporting and analysis to help you not only understand where you are but also where you should go.
Are you ready to increase your visibility and reach? One of many SEO strategies is building links. Building links not only increases visibility for your site, improves your rank signals, and makes it more authoritative in your field, but also helps you build relationships with webmasters and other sites across the Internet, diversify traffic sources, and increase your revenue streams. Search engines will recognize links as signals to indicate that your site is reliable. Links also aid online users in navigating between different pages of the Internet to meet their information requirements.
Link-building SEO is essential to your digital marketing strategies. Link building refers to the promotion of your site content in order to get backlinks on high-authority domains. Many consider backlinks to be the king of SEO, while content is still the king. The site with the highest quality backlinks to your website is the one you want to optimize. But, this does not necessarily mean all links.
Are you already using SEO but not getting the desired results? A full audit can be done to determine what SEO practices are in place and which ones don't work. SEO St Louis can then make recommendations based on the results to improve your rank. To help you identify new possibilities and address any problems with your site, we can perform an SEO audit. Our SEO experts can analyze your competitors' websites and provide you with services to help propel your online success. Get a free SEO report.
An SEO audit is an assessment of how your website is related to the best practices. It is the first step in creating a plan for implementation that will produce measurable results. Website audits are essential. They are basically health checks for your website.
This audit is designed to find as many issues as possible that can affect organic search performance. This is what the SEO audit will show:
Issues in technical SEO
Site structure problems
Issues in On-page SEO
Possible problems off-site
Problems with user experience
Opportunities and gaps in content
Market insights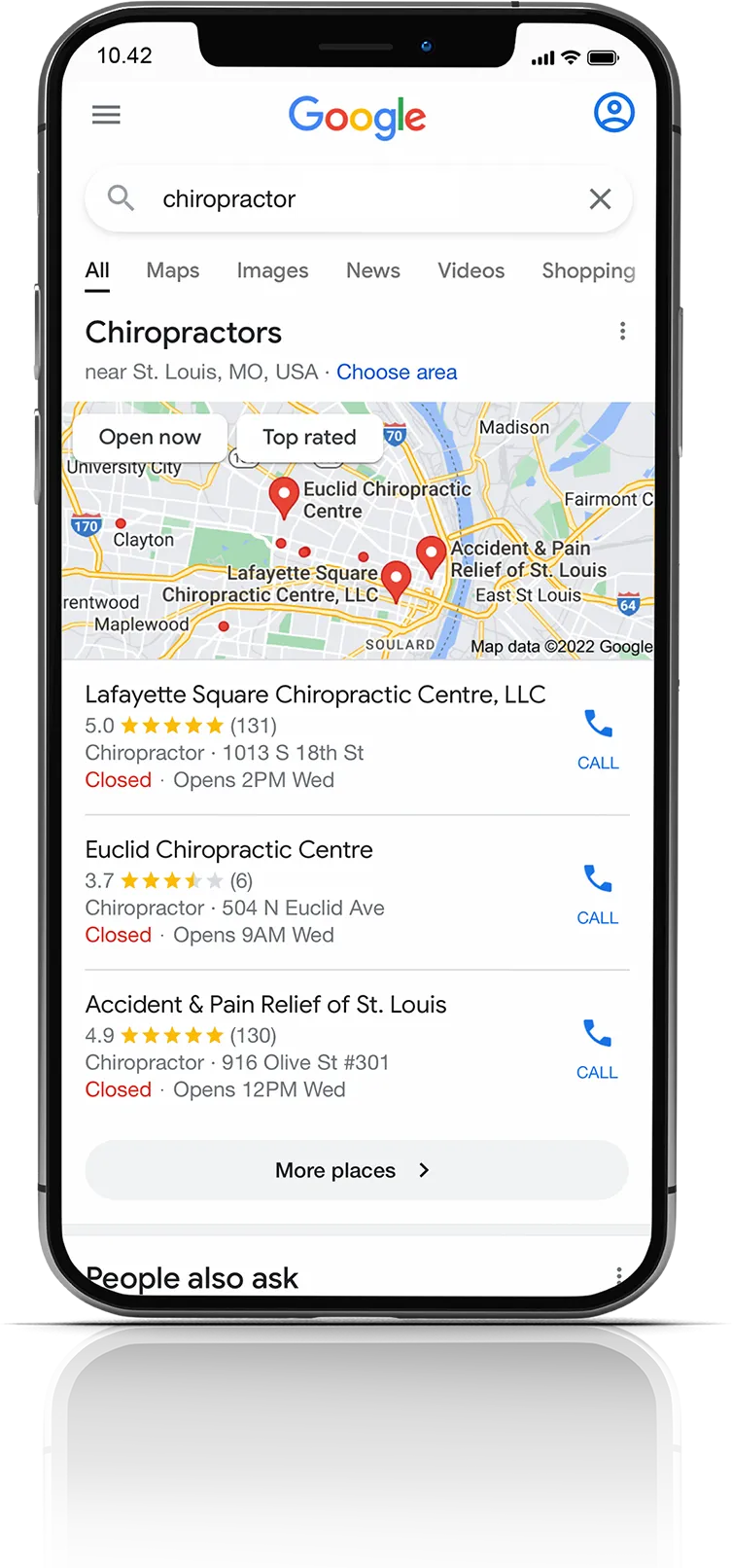 To maximize your online competitiveness, we monitor the volume of searches. Also, we monitor bounce rates to make any necessary adjustments to your website. You can get a comprehensive overview of the optimization strategies used by your competitors and identify your conversion potentials. The technical SEO consultant analyzes the keyword performance of your competitors, their search engine rankings, and social media presence. We also evaluate backlink profiles and technical details. We can then create strategies to give you a competitive advantage in the niche markets we serve.
Do you want to discuss SEO with us?
The Right SEO Company Has Finally Been Found!
Our goal is to be a digital marketing agency that leads businesses. SEO St Louis will make it easy for you to find new customers. SEO St Louis makes use of all available tools to maximize your visibility and relevancy and maintain your business's top position in online searches.